Past Continuous Tense In Urdu
In lesson of tenses series,you will learn past continuous tense in Urdu.First of all we will learn that how to identify past continuous tense in Urdu,Then we will learn about helping verbs and form of verb.After this we will learn how to make sentences in past indefinite tense in Urdu the end you will get a practice exercise where you will make sentences yourself.
How To Identify Past Indefinite Tense In Urdu?
پہچان
Past Continuous Tense
میں اردو فقرات کے آخر میں رہا تھا رہی تھی رہے تھے وغیرہ آتا ہے۔
وہ کھیل رہا تھا
ہم پڑھ رہے تھے۔
علی گانا گا رہا تھا۔
Use
This tense is used to tell about a continuing state or action that was happening at some point in the past.
اس زمانہ کا استعمال ایسے کاموں یا حالت کے بارے میں بتانے کے لیے ہوتا ہے جو ماضی مین جاری تھے۔
He was playing.
We were studying.
Ali was singing a song.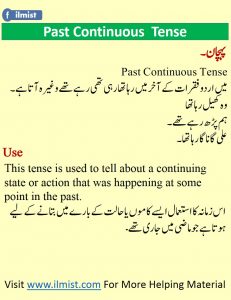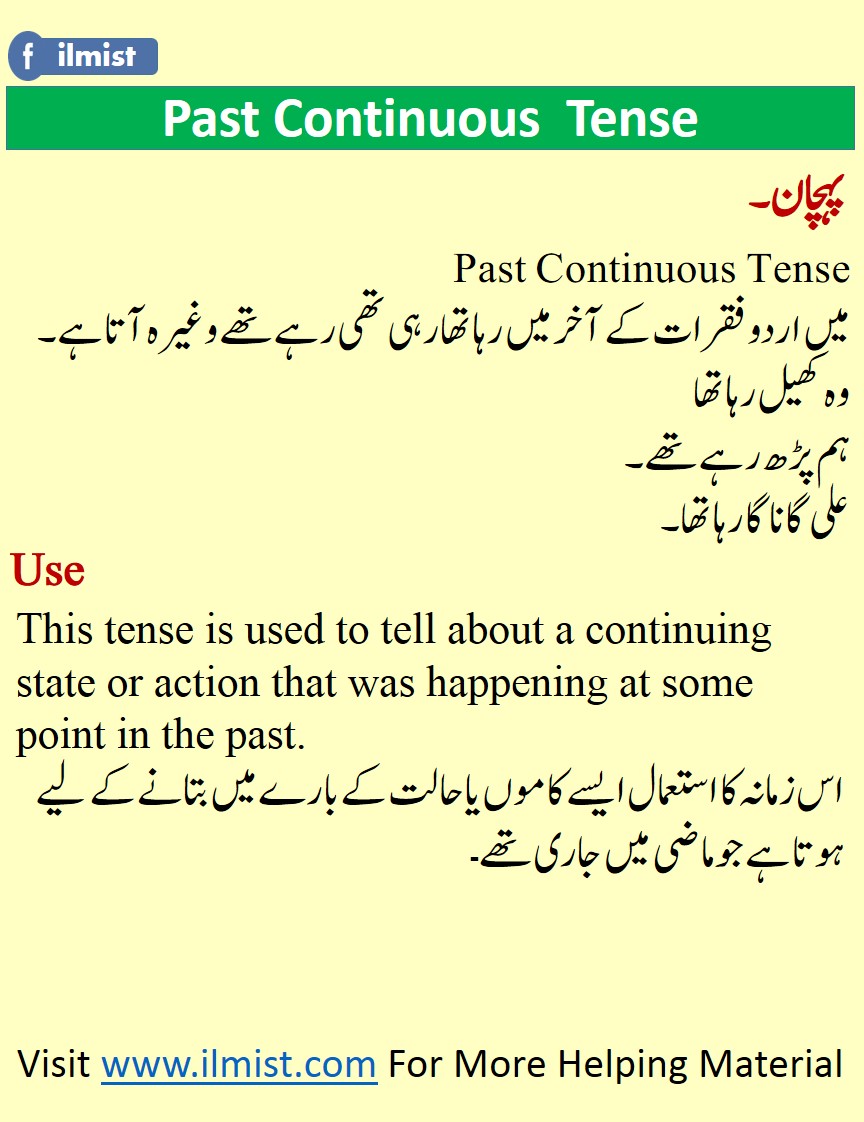 Helping/Auxiliary Verb
Was/Were
Was is used for 
I
He
She
It
Singular Subject
Were is used for 
We
You
They
Plural Subject
Form Of Verb?
Verb-ing is used in all sentences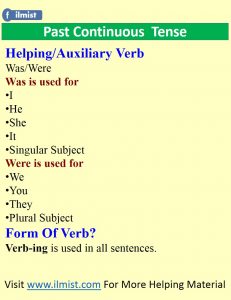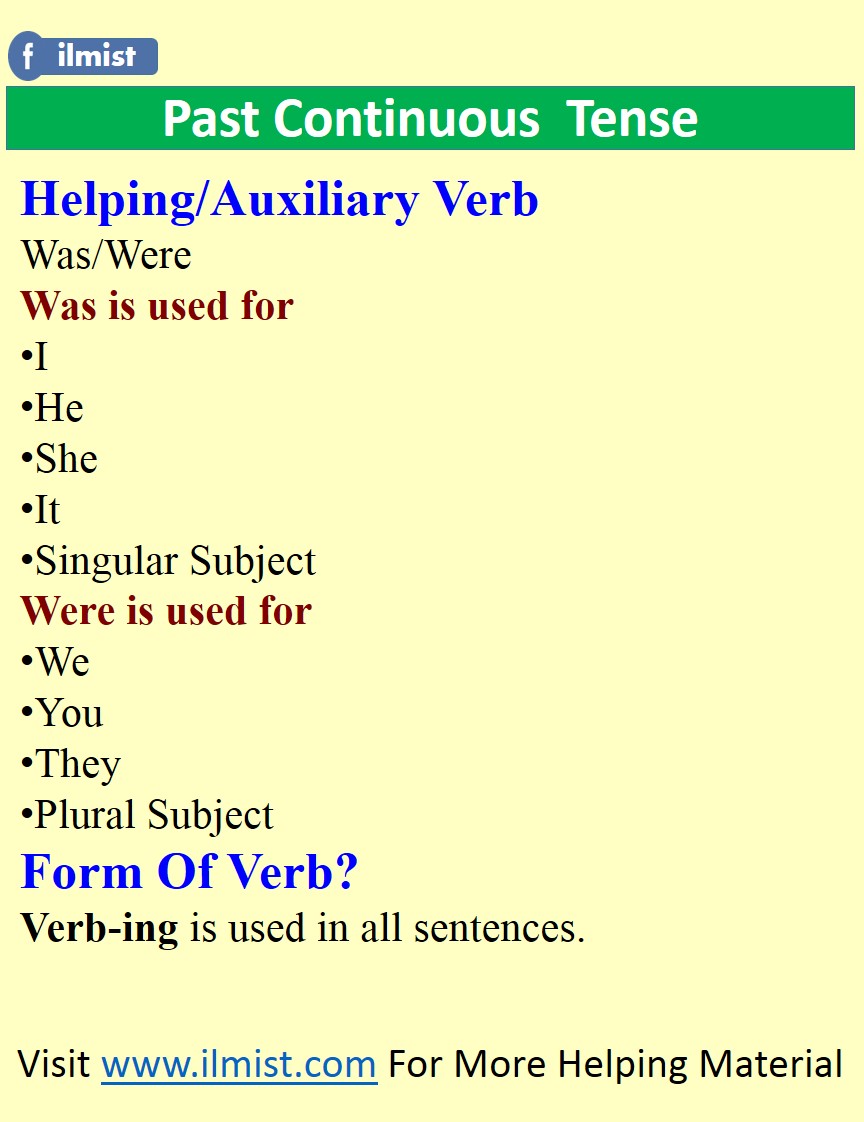 Simple Sentences 
Subject+Was/Were+Verb-ing+object
| | |
| --- | --- |
| The old man was shivering with cold. | بوڑھا آدمی سردی سے کانپ رہا تھا۔ |
| He was beating his brother. | وہ اپنے بھائی کو مار رہا تھا ۔ |
| The beggar was limping. | ہبھکاری لنگڑا رہا تھا۔ |
| The boys were trembling with fear. | لڑکے خوف سے کانپ رہے تھے۔ |
| I was recommending him for job. | میں اس کی نوکری کی سفارش کر رہا تھا |
Negative Sentences
Subject+was/were not+Verb-Ing+object
| | |
| --- | --- |
| The old man was not shivering with cold. | بوڑھا آدمی سردی سے کانپ نہیں  رہا تھا۔ |
| He was not beating his brother. | وہ اپنے بھائی کو مار  نہیں رہا تھا ۔ |
| The beggar was not limping. | بھکاری لنگڑا نہیں  رہا تھا۔ |
| The boys were not trembling with fear. | لڑکے خوف سے کانپ نہیں  رہے تھے۔ |
| I was not recommending him for job. | میں اس کی نوکری کی سفارش نہیں  کر رہا تھا |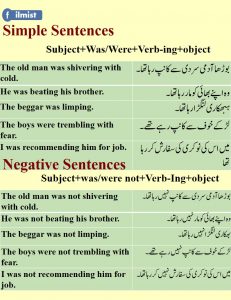 Interrogative Sentences
Was/Were+Subject+verb-ing+object
| | |
| --- | --- |
| Was the old man shivering with cold ? | کیا بوڑھا آدمی سردی سے کانپ رہا تھا؟ |
| Why was he beating his brother? | وہ کیوں اپنے بھائی کو مار رہا تھا ؟ |
| Was the beggar limping? | کیا بھکاری لنگڑا رہا تھا؟ |
| Were the boys trembling with fear ? | کیا لڑکے خوف سے کانپ رہے تھے؟ |
| Was I recommending him for job ? | کیامیں اس کی نوکری کی سفارش کر رہا تھا؟ |
Practice Exercise
کیا الارم بج رہا تھا؟
وہ فیصلہ سنا رہا تھا۔
وہ کرکٹ نہیں کھیل رہے تھے۔
کیا وہ پانی پی رہے تھے؟
کیا وہ سکول نہیں جا رہا تھا؟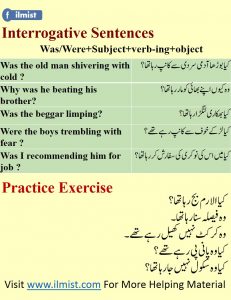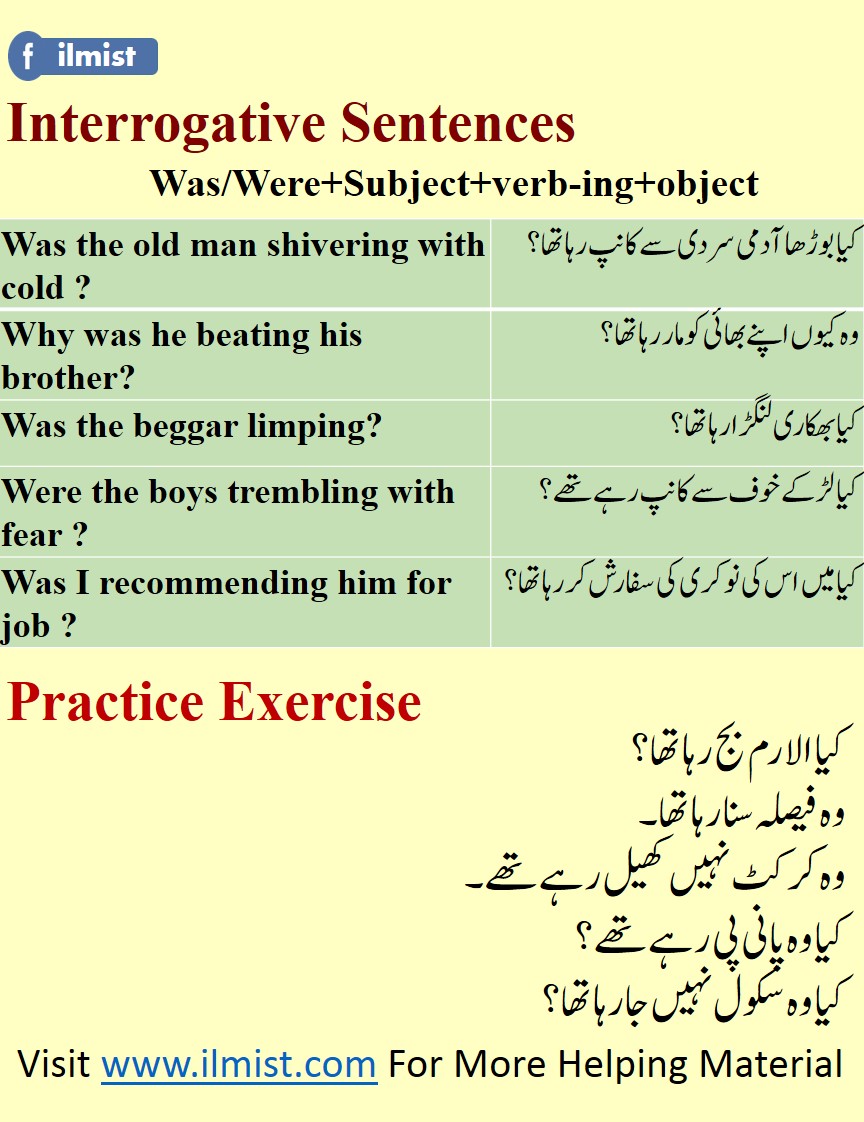 Download Past Continuous Tense In Urdu PDF Lesson
Click here or the PDF button below to download Past Continuous Tense In Urdu lesson in PDF format