Past Indefinite Tense In Urdu
In this lesson you will learn Past indefinite Tense In Urdu.Lesson contains
How To Identify Past Indefinite Tense In Urdu
Auxiliary/Helping Verb
Sentence Structure
Example Sentences
Practice Exercise
How To identify Past Indefinite Tense In Urdu?
پہچان۔
 Past indefinite tense
     میں اردو  فقرات کے آخر میں 'تھا تھی تھے آ ٰٰی ے وغیرہ آتا ہے۔
Use
Past indefinite tense is used to tell about an action occurred in the past.It also describes habit if the past.
اس زمانہ کا استعمال ایسے کاموں کے بارے میں بتانے کیلئے ہوتا ہے جو  ماضی میں میں ہوئے ہوں یا کوئی ماضی کی عادت ہو۔
ہم بازار گئے
علی ہمارے ساتھ نہیں کھیلا۔

Helping/Auxiliary Verb
Did
Did is used with 
I
We
You
He
She
It
Singular Subject
They
Plural Subject
Form Of Verb?
First form of verb is used in sentences where did is used.In simple sentences 2nd –Verb is used.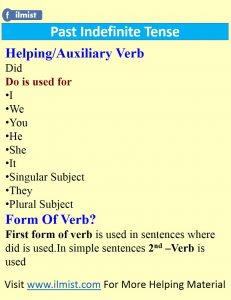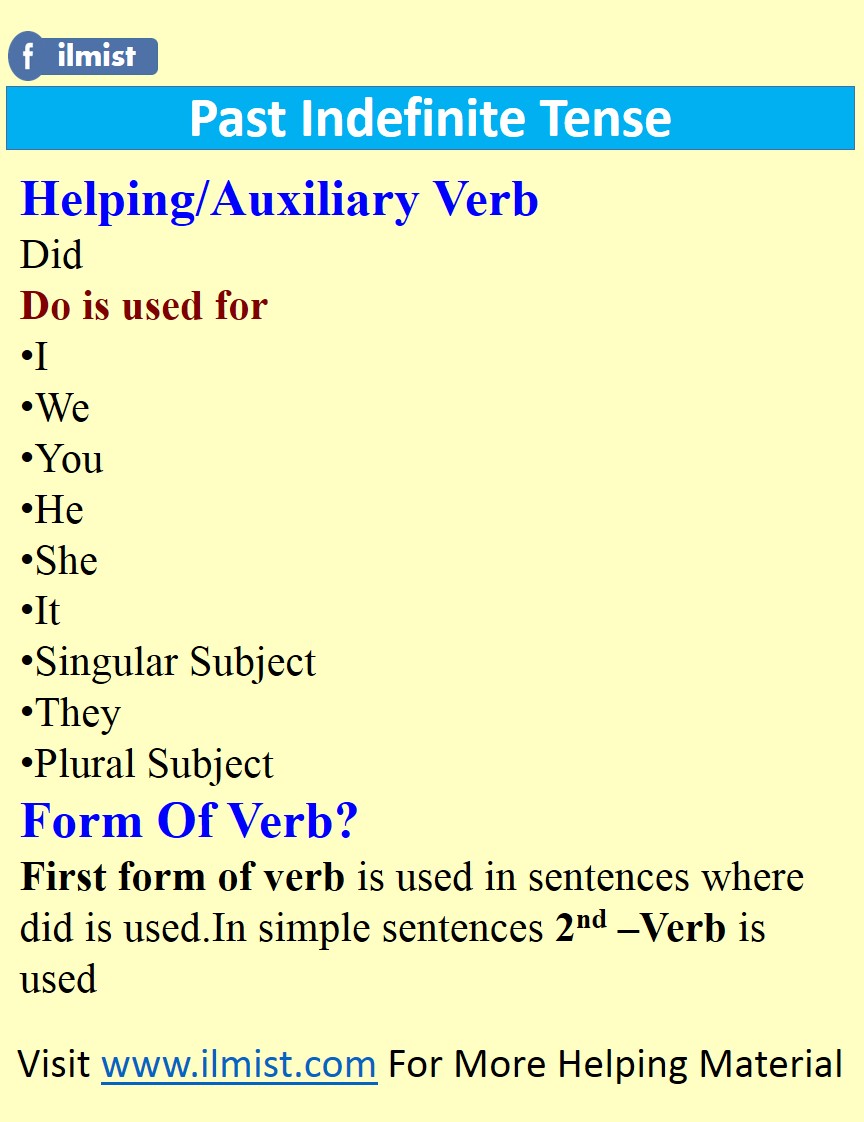 Habit Of The Past
Subject+Used To+Verb-1st +Object
It describes the routine or habit in the past.
For Example:
He used to play cricket.
He used to go to school.
Ahmad used to read novels.
They used to smoke.
Simple Sentences
Subject+2nd –verb+object
In simple sentences helping verb is not usually used.It is used only when we want to intensify a statement.
| | |
| --- | --- |
| I took tea. | میں نے چائے پی۔ |
| She wrote a letter . | اس نے خط لکھا ۔ |
| We went to river yesterday. | ہم کل دریا پر گئے۔ |
| They accepted our invitation. | انہوں نے ہمارا دعوت نامہ قبول کر لیا۔ |
| You reached home safe . | تم خیریت سے گھر پہنچ گئے ۔ |
Negative Sentences
Subject+did not+1st –verb+object
| | |
| --- | --- |
| I didn't take tea. | میں نے چائے نہیں  پی۔ |
| She didn't write a letter. | اس نے خط نہیں  لکھا |
| We didn't go to river yesterday. | ہم کل دریا پر نہیں  گئے |
| They didn't accept our invitation. | انہوں نے ہمارا دعوت نامہ قبول نہیں کیا۔ |
| You didn't reach home safe. | تم خیریت سے گھر پہنچ نہیں  گئے |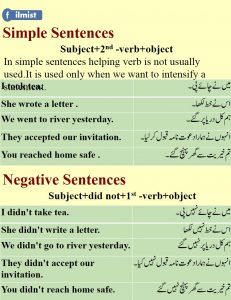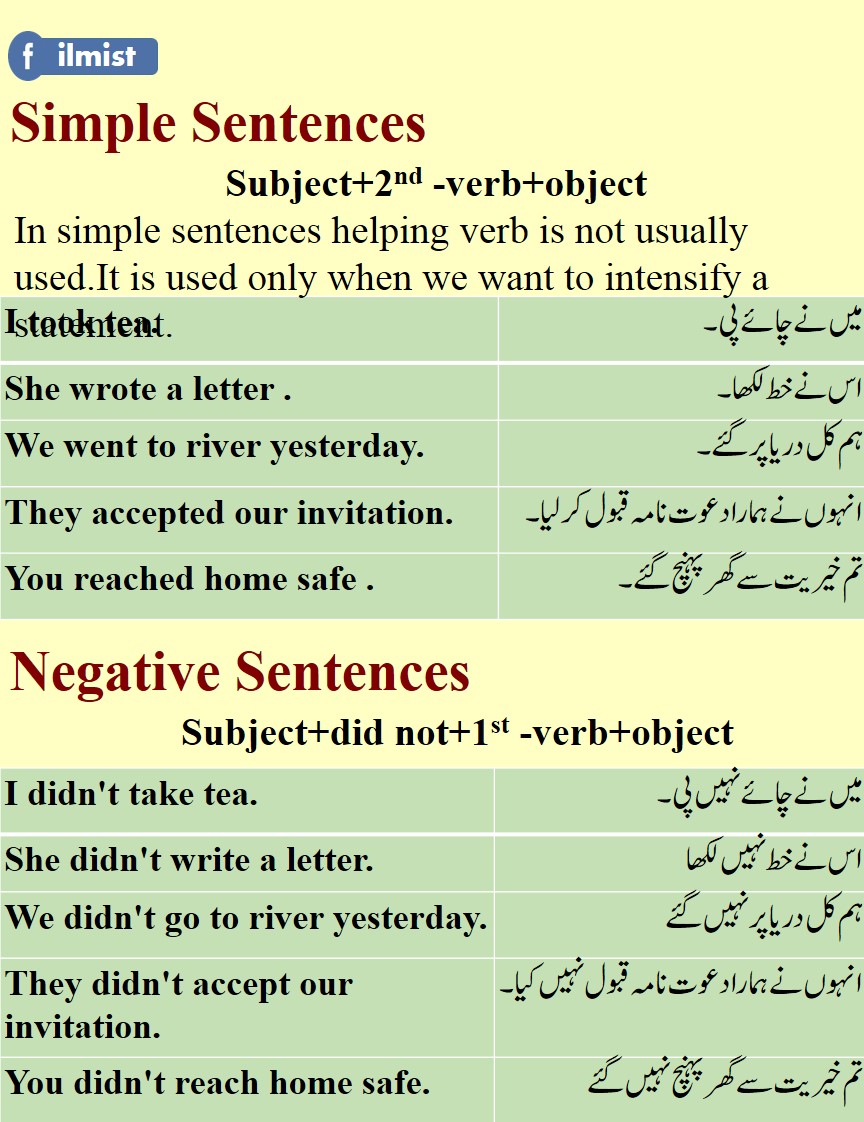 Interrogative Sentences
Did+Subject+1st –verb+object
| | |
| --- | --- |
| Did I take tea ? | کیا میں نے چائے پی؟ |
| She didn't write a letter. | کیا اس نے خط لکھا؟ |
| Did we go to river yesterday ? | کیا ہم کل دریا پر گئے؟ |
| Did they accept our invitation? | کیا انہوں نے ہمارا دعوت نامہ قبول کر لیا |
| Did you reach home safe? | کیا تم خیریت سے گھر پہنچ گئے ہو ؟ |
Practice Exercise
مالی نے پھول توڑے۔
چپڑاسی نے گھنٹی بجائ۔
عمران خان نے وعدے  پورے نہیں کیے۔
پٹرول کی قیمتوں میں کمی نہیں ہوئی۔
کیا عدیل کھیلنے گیا؟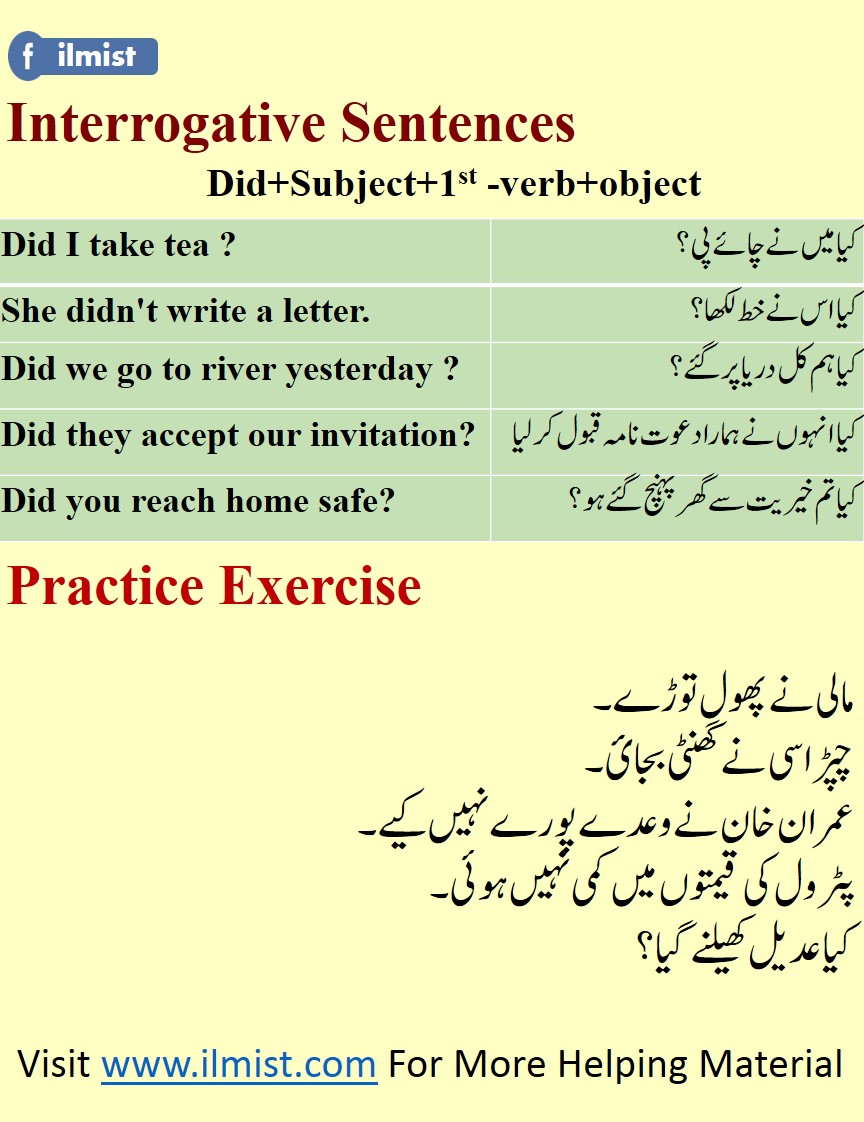 Download Past Indefinite Tense In Urdu PDF Lesson
Click here or the PDF button below to download Past Indefinite Tense In Urdu lesson in PDF