Future Perfect Tense In Urdu
In this lesson of tenses series you will learn"Future Perfect Tense In Urdu".How to identify future perfect tense in Urdu?Helping verbs?How to make sentences?You will find answers for all of your questions here.Let's get started….
How To Identify Future Perfect Tense In Urdu?
پہچان۔
 Future Perfect tense
     میں اردو  فقرات کے آخر میں  چکا ہوگا،چکے ہوں گے،چکی ہوگی  وغیرہ آتا ہے۔
Future perfect  tense in used to tell about an action which will have completed in future.
اس زمانہ کا استعمال ایسے کاموں کے بارے میں بتانے کیلئے ہوتا ہے جو  مستقبل میں مکمل ہو چکے ہوں گے۔
مثال۔
وہ سکول جا چکے ہوں گے ۔
علی ہمارے ساتھ کھیل چکا ہوگا۔
کامران گانا گا چکا ہوگا۔

Helping/Auxiliary Verb
Will have/Shall have
The use of helping verb is a little confusing in this tense.
We can use will have
Shall have is used with
But in most cases we see will have is used with I,We.
In short shall have is less common than will be and we use it
Formal conversation
Suggestion,Predestination,Inveitability
Form Of Verb?
  Verb-3rd  is used in all sentences.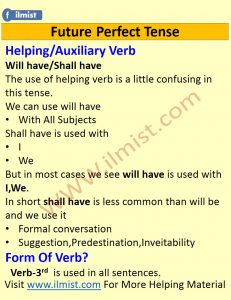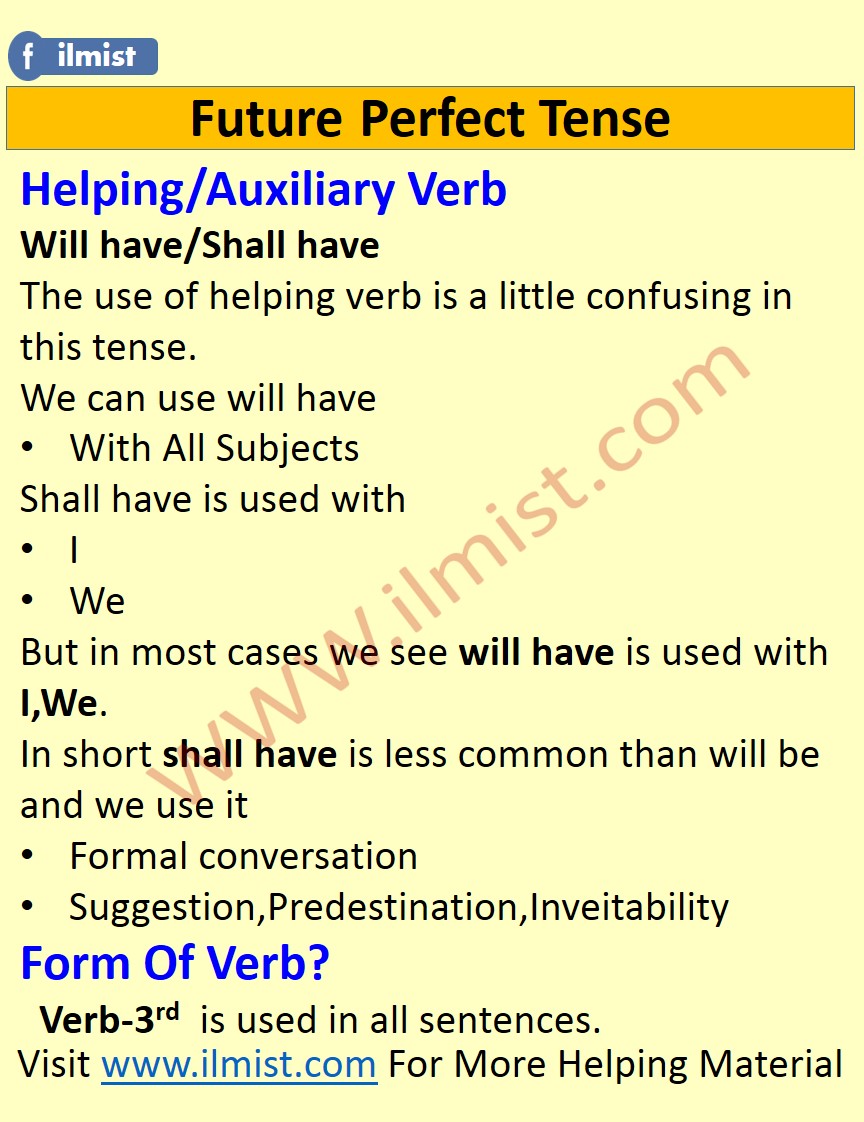 Simple Sentences
Subject+Will have/Shall have+Verb-3rd+object
| | |
| --- | --- |
| They will have made mistake. | وہ غلطی کر چکے ہوں گے۔ |
| He will have received pay. | وہ تنخواہ لے چکا ہو گا۔ |
| I shall have finished my work before he comes. | اس کے آنے سے پہلے میں اپنا کام ختم کر چکا ہوں گا۔ |
| The people will have vacated the village before I reach . | میرے آنے سے پہلے لوگ گاوں خالی کر چکے ہوں گے۔ |
| The servant will have posted the letter. | نوکر خط ڈاک میں ڈال چکا ہوں گا۔ |
Negative Sentences
Subject+Will/Shall Not have+Verb-3rd+object
| | |
| --- | --- |
| They will not have made mistake. | وہ غلطی نہیں  کر چکے ہوں گے۔ |
| He will not have received pay. | وہ تنخواہ نہیں  لے چکا ہو گا۔ |
| I shall not have finished my work before he comes. | اس کے آنے سے پہلے میں اپنا کام ختم نہیں  کر چکا ہوں گا |
| The people will not have vacated the village before I reach. | میرے آنے سے پہلے لوگ گاوں خالی نہیں  کر چکے ہوں گے |
| The servant will have posted the letter. | نوکر خط ڈاک میں ڈال چکا ہوں گا۔ |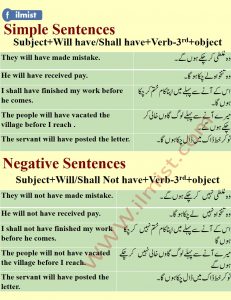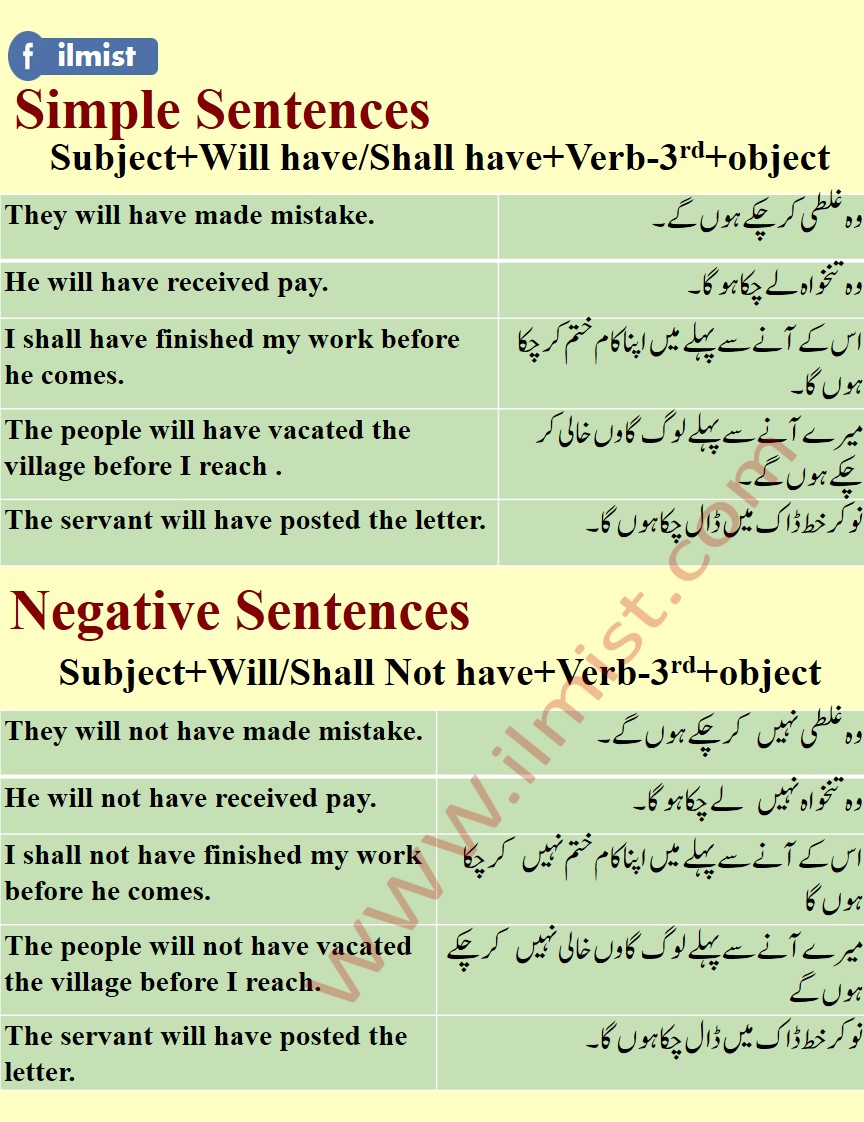 Interrogative Sentences
Will/Shall+Subject+have+Verb-3rd +object
| | |
| --- | --- |
| Will they have made mistake ? | کیا وہ غلطی کر چکے ہوں گے؟ |
| Will he have received pay? | کیا وہ تنخواہ لے چکا ہو گا؟ |
| Shall i have finished my work before he comes? | کیا اس کے آنے سے پہلے میں اپنا کام ختم کر چکا ہوں گا؟ |
| Will the people have vacated the village before i reach? | کیا میرے آنے سے پہلے لوگ گاوں خالی کر چکے ہوں گے؟ |
| Will the servant have posted the letter ? | کیا نوکر خط ڈاک میں ڈال چکا ہوگا؟ |
Practice Exercise
وہ تنقید کر چکا ہوگا۔
کیا وہ جا چکا ہوگا؟
وہ کھیل نہیں چکا ہوگا۔
کیا علی گانا گا چکا ہوگا؟
کیا آمنہ لڈو کھیل چکی ہوگی؟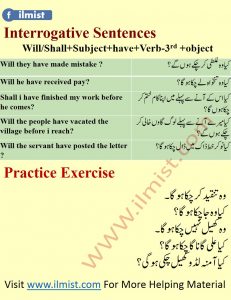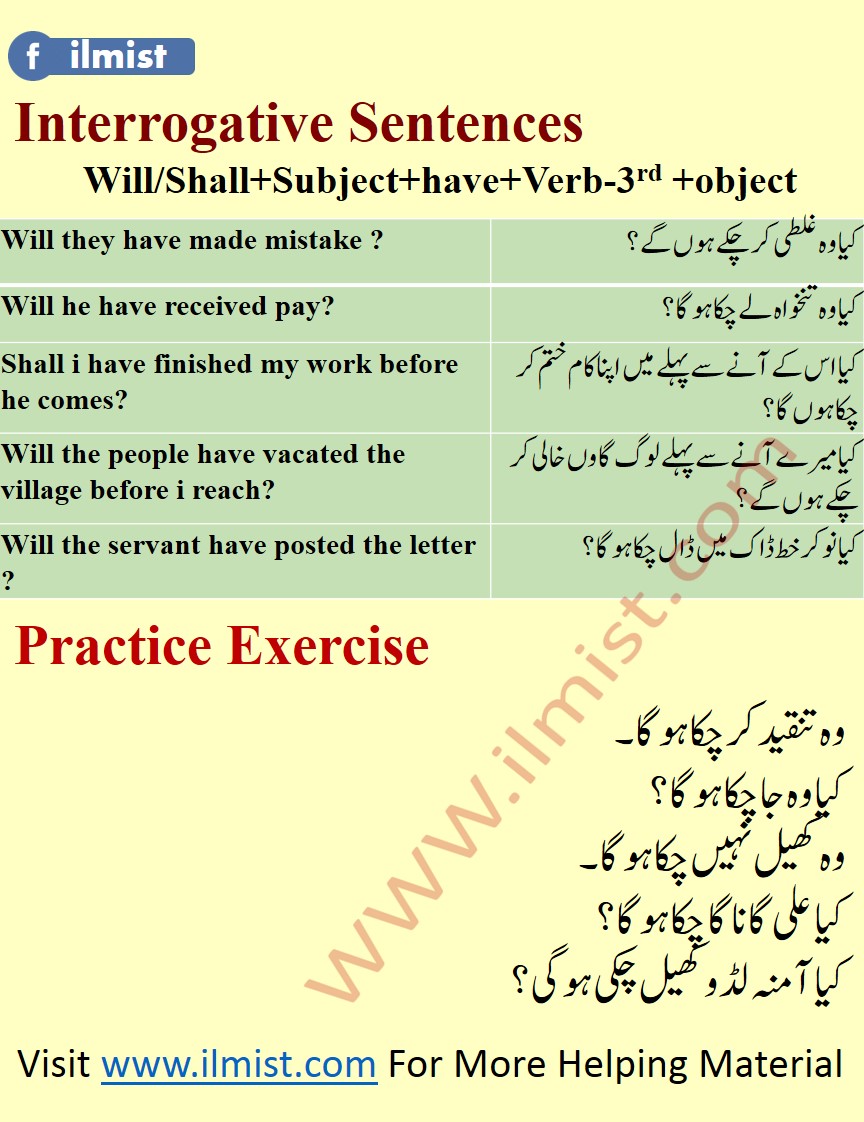 Download Future Perfect Tense In Urdu PDF Lesson
You can download Future Perfect Tense In Urdu PDF lesson by clicking here or the download button below