Connectors of Sequence Words
Connectors enable us to connect words or phrases. There is a wide range of connectors and each of them has a different function. Connectors can express:
addition
time
sequence
contrast
condition
reason
result
In This lesson, we'll talk about only 3 Connectors words List, Sequence, Contrast, and Similarity.
Connectors of Sequence Words List: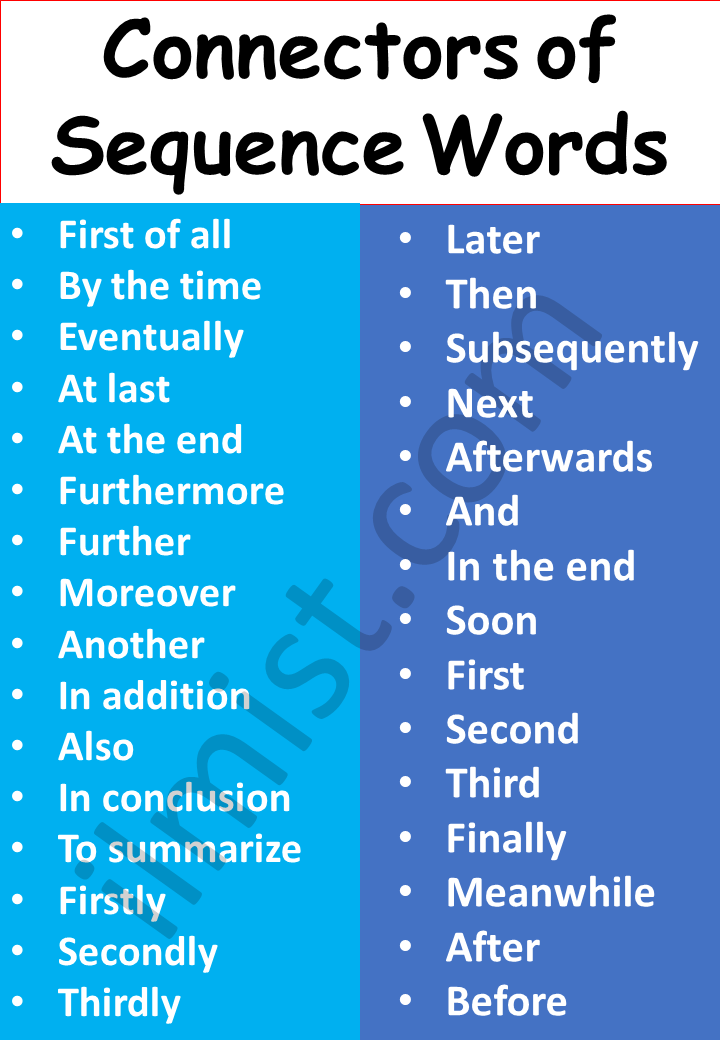 First of all
By the time
Eventually
At last
At the end
Furthermore
Further
Moreover
Another
In addition
Also
In conclusion
To summarise
Firstly
Secondly
Thirdly
Later
Then
Subsequently
Next
Afterward
And
In the end
Soon
First
Second
Third
Finally
Meanwhile
After
Before
Here are two more Examples of Connectors Words, Connectors of Contrast and Connectors of Similarity.
→ Contrast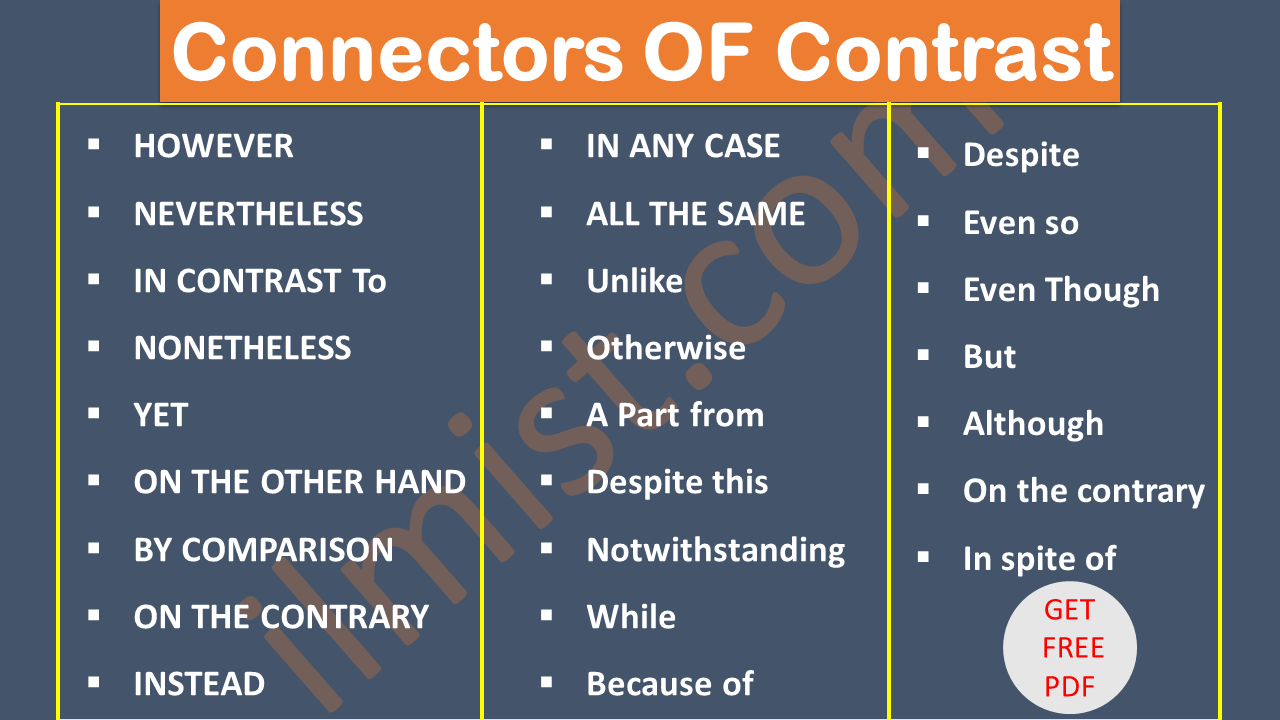 HOWEVER:
This restaurant has the best kitchen in town.

However

, their staff is quite rude.
NEVERTHELESS:
I was in so much pain I didn't want to get up in the morning.

Nevertheless

, I went to football practice as usual.
IN CONTRAST
House prices have gone up this year.

In contrast

, car prices seem to be stagnating.
NONETHELESS
I don't think Sean has serious behavioral problems.

Nonetheless

, I'll talk to him first thing in the morning.
YET
I've asked you a thousand times not to leave your dirty socks on the floor.

Yet

, you keep doing it.
ON THE OTHER HAND
England has the best language schools.

On the other hand

, it has the worst weather.
BY COMPARISON
Going out with Jim has its risks.

By comparison

, being with Tim is as easy as falling off a log.
ON THE CONTRARY
I don't hate Jim.

On the contrary

, I'm rather fond of him.
INSTEAD
I didn't want to take a side in the argument. Instead, I put my headphones on and listened to some smooth jazz.
IN ANY CASE
I was thinking of going round Jim's place.

In any case

, I haven't been invited.
ALL THE SAME
Yes, he's very good-looking. All the same, I don't think you should go out with him.
SIMILARITY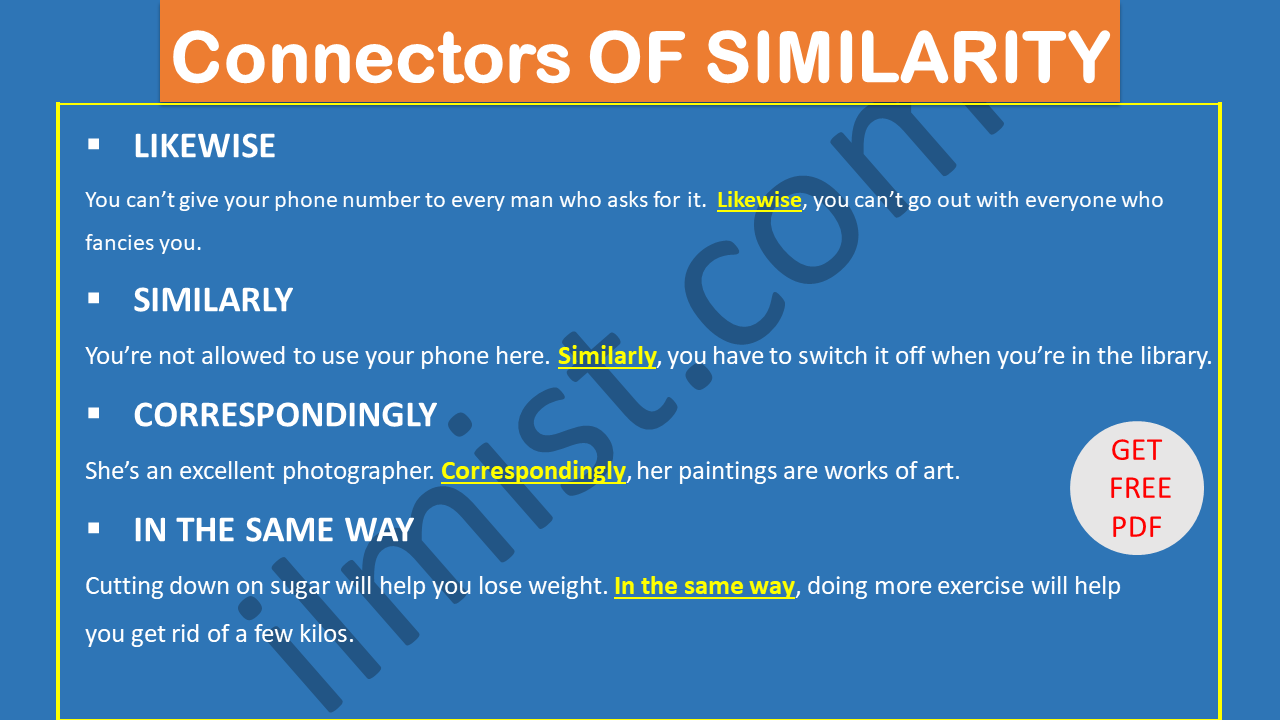 I want to talk to Prince Harry when I'm in England. Also, I want to meet his sister-in-law.
You can't give your phone number to every man who asks for it. Likewise, you can't go out with everyone who fancies you.
You're not allowed to use your phone here. Similarly, you have to switch it off when you're in the library.
She's an excellent photographer. Correspondingly, her paintings are works of art.
Cutting down on sugar will help you lose weight. In the same way, doing more exercise will help you get rid of a few kilos.
Write Down a Comment if You Need PDF Book of This Lesson!!!