Use Of IS, AM, ARE, WAS, and WERE In English With Urdu Examples
Learn how, where, and why we use English words Is, Am, Are, Was, and Were. This lesson contains the use of is, am, are, was, and were in English with Urdu examples and explanations. There are many ways to use is, am, are, was, and were in English grammar, but here we'll discuss about the easiest way to use them.
Use Of IS, AM, ARE:
Is am Are,  used as a verb in Sentences that end on ہے،ہوں،ہیں۔
These are Used as:
| | |
| --- | --- |
| He, She, It, Single Noun | IS |
| I | AM |
| We, You, They, Plural Noun | ARE |
Use is when the subject is a singular noun or a third-person singular pronoun.
Use are when the subject is a plural noun or a plural pronoun (e.g. we, you, they).
Use am when the subject is the first person pronoun I.
Use of Was Were
Was and were are both past tenses of the verb to be. The verb be is a tricky one because it is an irregular verb and one that we find ourselves using with great frequency, so it is that much more important that we choose the correct verb for our sentences.
| | |
| --- | --- |
| He, She, It, Single Noun | Was |
| I, We, You They Plural Noun | Were |
Was it is used in the first person singular (I) and the third person singular (he, she, it).
Were is used in the second person singular and plural (you, your, yours) and first and third person plural (we, they).
Singular = I was, You were, He was, She was, It was
Plural = We were, You were, They were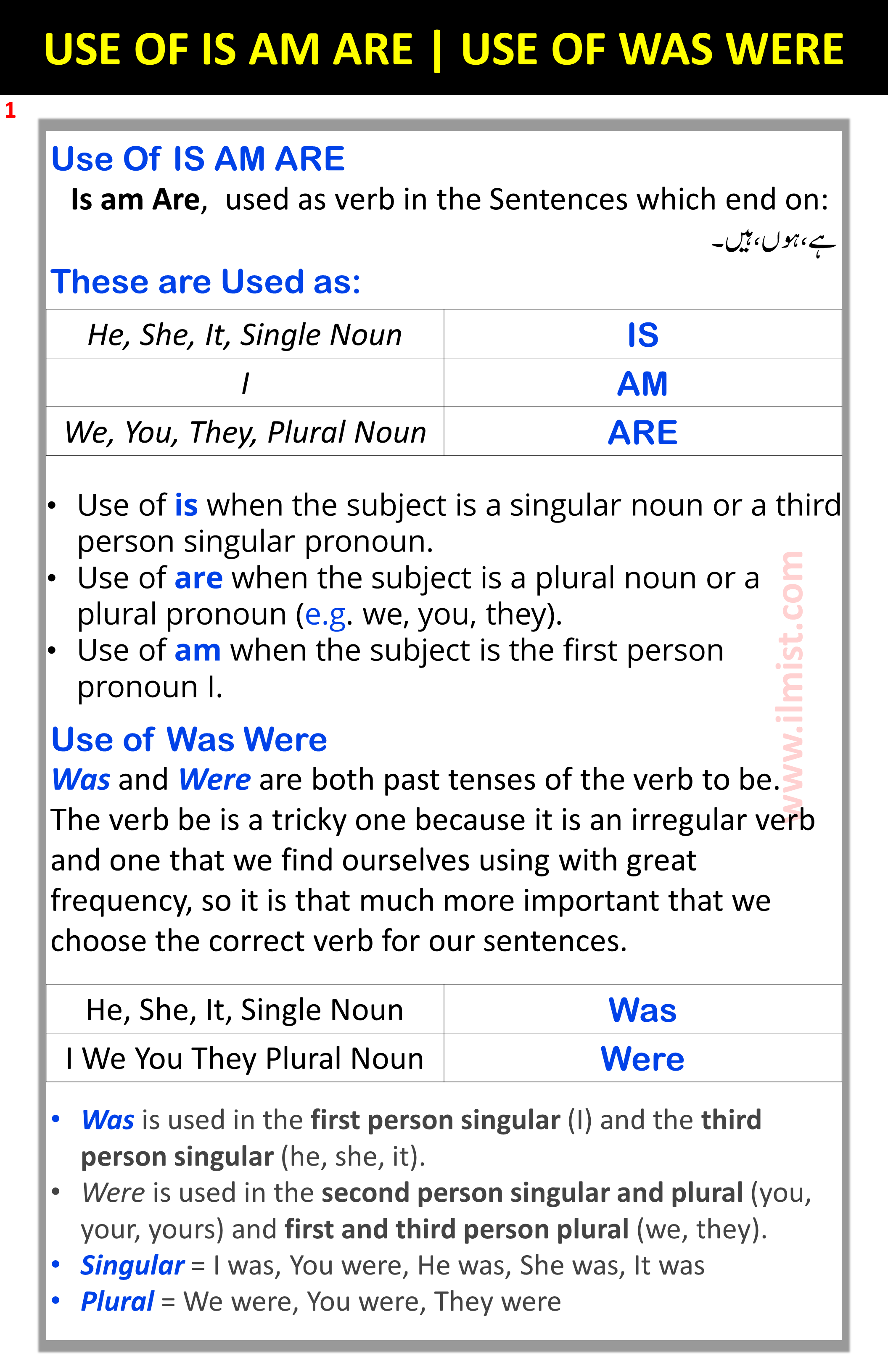 English to Urdu Sentences with the use of Is, Am, Are, Was, and Were:
| | |
| --- | --- |
| He is my friend. | وہ میرا دوست ہے |
| He is not my friend. | وہ میرا دوست نہیں ہے |
| Is he my friend? | کیا وہ میرا دوست ہے؟ |
| We are students. | ہم طالبعلم ہیں |
| We are not students. | ہم طالبعلم نہیں ہیں |
| Are we students? | کیا ہم طالبعلم ہیں؟ |
| He is a good player | وہ ایک اچھا کھلاڑی ہے |
| He is not a good player. | وہ ایک اچھا کھلاڑی نہیں ہے |
| Is he a good player? | کیا وہ اچھا کھلاڑی ہے؟ |
| Pakistan is our country. | پاکستان ہمارا ملک ہے |
| Pakistan is an Islamic country. | پاکستان ایک اسلامی ملک ہے |
| The moon is beautiful. | چاند خوبصورت ہے |
| The sky is clear. | آسمان صاف ہے |
| The book is not beautiful. | میری کتاب خوبصورت نہیں ہے |
| I am a Muslim. | میں ایک مسلمان ہوں |
| They are children. | وہ بچے ہیں |
| We are naughty children. | ہم شرارتی بچے ہیں |
| He was a rich man. | وہ ایک امیر آدمی تھا |
| He was not a rich man. | وہ ایک امیر آدمی نہیں تھا |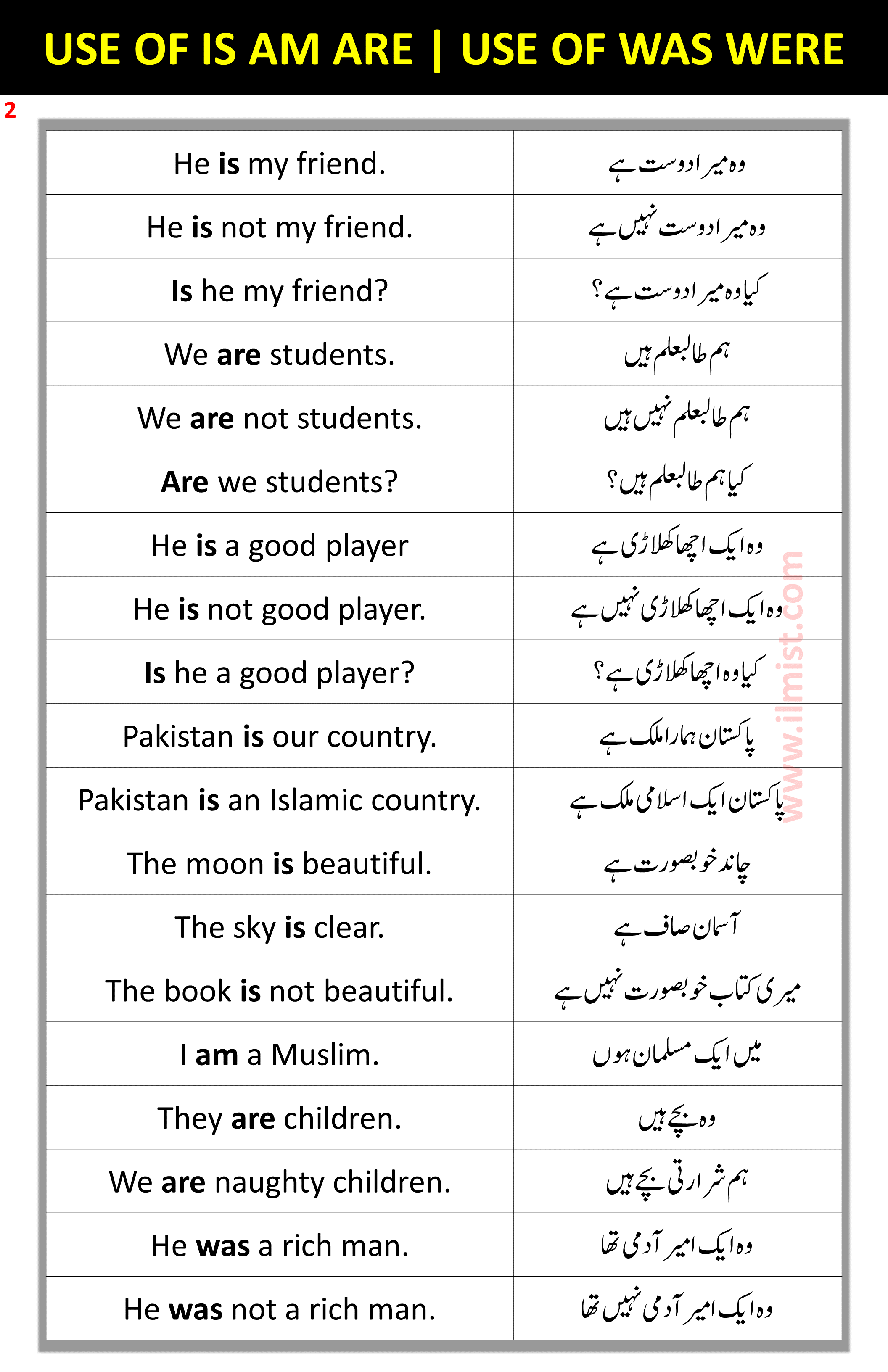 | | |
| --- | --- |
| Was he a rich man? | کیا وہ ایک امیر آدمی تھا؟ |
| That girl was beautiful. | وہ لڑکی خوبصورت تھی |
| That girl was not beautiful. | وہ لڑکی خوبصورت نہیں تھی |
| Was that girl beautiful? | کیا وہ لڑکی خوبصورت تھی؟ |
| Allama Iqbal was a great man. | علامہ اقبال ایک عظیم انسان تھے |
| The Quaid-e-Azam was an honest leader. | قائد اعظم ایک ایماندار راہنما تھے |
| They were not students. | وہ طالبعلم نہیں تھے |
| We were not thieves. | ہم چور نہیں تھے |
| They were brave boys. | وہ بہادر لڑکے تھے |
| Were they good player? | کیا وہ اچھے کھلاڑی تھے |
| We were not their enemies. | ہم ان کے دشمن نہیں تھے |
| They were sincere people. | وہ مخلص لوگ تھے |
| He was a proud man. | وہ ایک مغرور آدمی تھا |
| We were their companions. | ہم ان کے ساتھی تھے |
Use Of IS, AM, ARE, WAS, and WERE | PDF Book