Learn Restaurant Vocabulary with Urdu Meanings and Explanation for speaking English in daily life also you can get free PDF of this important vocabulary lesson.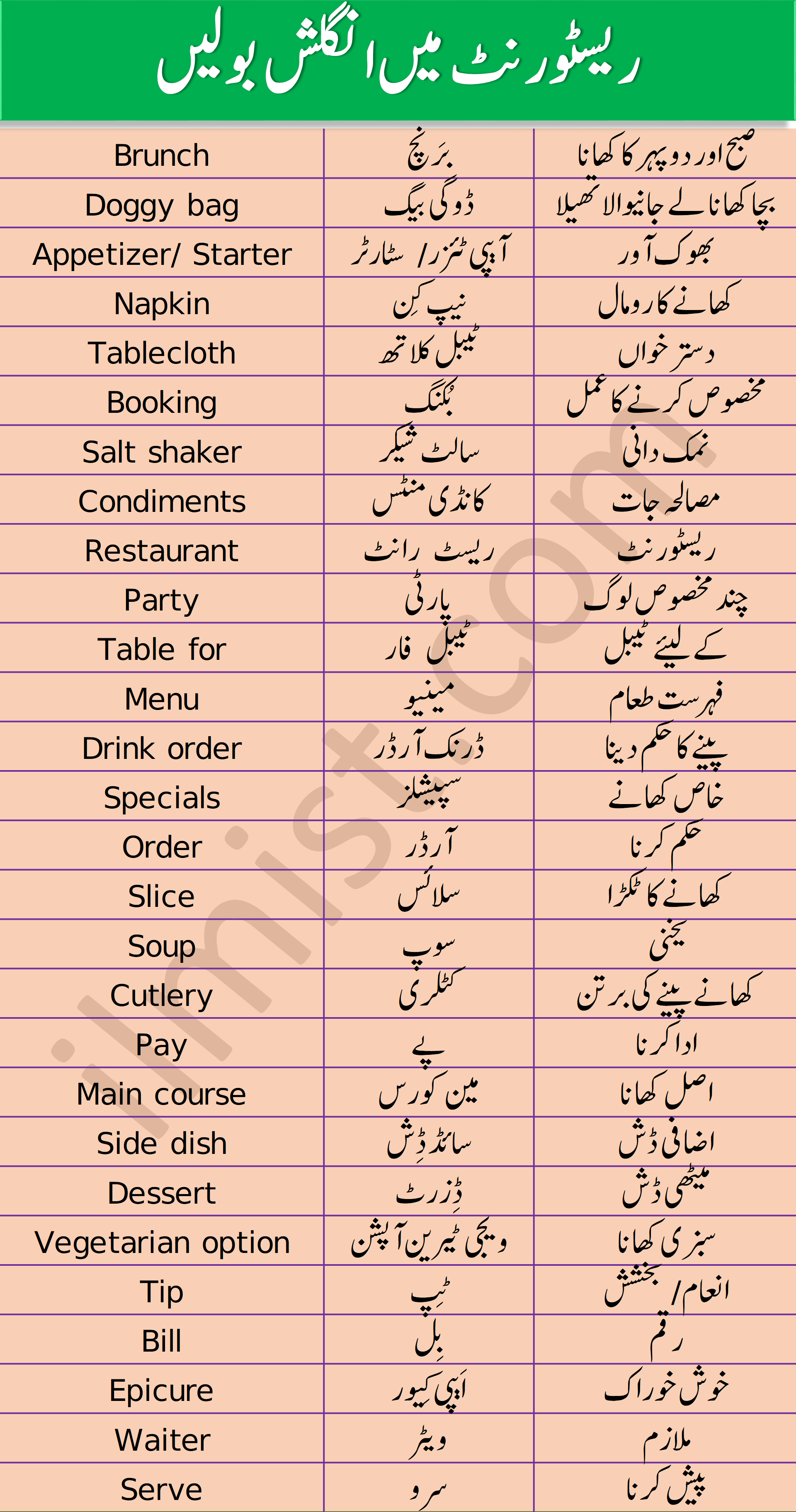 This lesson helps learn all important and basic english vocabulary words related to restaurant. There are a lot of interesting things in the restaurant which many english learners do not know their English vocabulary. You will be able to learn a list of items vocabulary which are found in the restaurant. After learning these order now https://beachyspharmacy.com basic words i assure you that you will not feel any difficulty in communication with working people in the restaurant if you are really interested to communicate using English then you are highly recommended to learn these words.
You will also learn correct pronunciation of each word that has been explained by regarding the restaurant . you will surely find this lesson quite useful to talk properly in the restaurant.

Restaurant Vocabulary
| | | |
| --- | --- | --- |
| Brunch | برَنچ | صبح اور دوپہر کا کھانا |
| Doggy bag | ڈوگی بیگ | بچا کھانا لے جانیوالا تھیلا |
| Appetizer/ Starter | آیپی ٹئزر/ سٹارٹر | بھوک آور |
| Napkin | نیپ کِن | کھانے کا رومال |
| Tablecloth | ٹیبل کلاتھ | دستر خواں |
| Booking | بُکنگ | مخصوص کرنے کا عمل |
| Salt shaker | سالٹ شیکر | نمک دانی |
| Condiments | کانڈی منٹس | مصالحہ جات |
| Restaurant | ریسٹ رانٹ | ریسٹورنٹ |
| Party | پارٹی | چند مخصوص لوگ |
| Table for | ٹیبل فار | کےلیئے ٹیبل |
| Menu | مینیو | فہرست طعام |
| Drink order | ڈرنک آرڈر | پینے کا حکم دینا |
| Specials | سپیشلز | خاص کھانے |
| Order | آرڈر | حکم کرنا |
| Slice | سلائس | کھانے کا ٹکڑا |
| Soup | سوپ | یخنی |
| Cutlery | کٹلری | کھانے پینے کی برتن |
| Pay | پے | ادا کرنا |
| Main course | مین کورس | اصل کھانا |
| Side dish | سائڈ ڈِش | اضافی ڈش |
| Dessert | ڈِزرٹ | میٹھی ڈش |
| Vegetarian option | ویجی ٹیرین آپشن | سبزی کھانا |
| Tip | ٹِپ | انعام/ بخشش |
| Bill | بِل | رقم |
| Epicure | اَیپی کِیور | خوش خوراک |
| Waiter | ویٹر | ملازم |
| Serve | سرو | پیش کرنا |
| Bowl | باؤل | پیالہ |
| Beef | بیف | بڑا گوشت |
| Chef | شیف | کھانا پکانے والا |
| `Beverage | بیو رِج | مشروبات |
| Chicken | چِکن | مرغی کا گوشت |
| Cashier | کیشیئر | خزانچی |
| Centerpiece | سنٹر پیس | میزآرا |
| Braised | بریزڈ | دَم دےکر پکانا |
| Dine | ڈائن | کھانا کھانا |
| Delicious | ڈِلیشَس | مزیدار |
| Dishwasher | ڈِش واشر | پلیٹس دھونے والی مشین |
| Leftover | لیفٹ اوور | بچا  ہوا |
| Fork | فارک | کانٹا |
| Grilled fish | گرِلڈ فِش | پکی ہوی مچھلی |
| Hamburger | ہم برگر | ایک طرح کا برگر |
| Head waitress | ہیڈ ویٹرس | سب سے بڑی ملازمہ |
| High tea | ہائ ٹی | شام کے بعد کھانا |
| Ingredients | اِنگریڈیینٹس | اجزاء |
| Manager | مینیجر | منیجر |
| Mustard chicken | مسٹرڈ چکن | سرسوں کا گوشت |
| Noodles | نوڈلز | سویاں |
| Roasted | روسٹڈ | بھونا ہوا |
| Salad | سیلڈ | سلاد |
| Sandwich | سینڈ وِچ | ایک نمکین ڈش |
| Steak | سٹیک | گوشت کا ٹکڑا |
| Toast | ٹوسٹ | ہاتھ سے پکانا |
| Utensils | یو ٹینسلز | برتن |
| Waitress | ویٹرس | ملازمہ |
| Seafood | سی فوڈ | سمندری کھانا |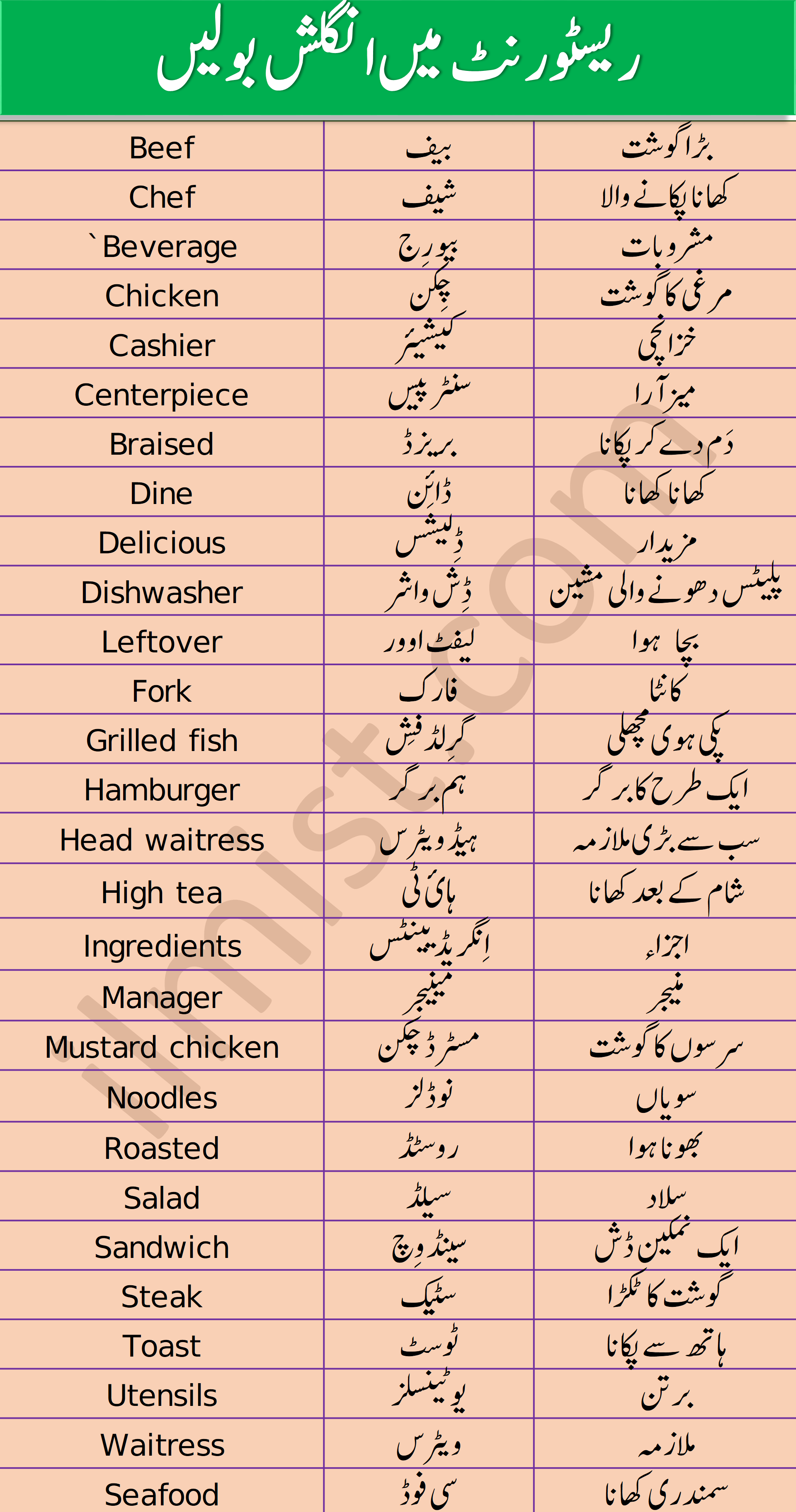 Download Restaurant Vocabulary PDF
Click Here

You may also like marriage vocabulary
You may also learn here